SEND AMAZING QUOTES OF DEEP APPRECIATION AND AFFECTION TO THE SPECIAL WOMEN IN YOUR LIFE!
Today is the perfect day to say that I'm proud of you and so lucky to have an inspirational lady like you in my life.
You're wonderful, outstanding, marvellous, adorable, and nice
A woman in any form shall be celebrated and honored, be it, a sister or a wife or a mother or any other form.
Congratulations, lovely woman. Today you deserve our most beautiful flowers and poetry!
Happy Women's Day to all the incredible women! Shine on…. Not just today but everyday!
Man does not control his own fate. The women in his life do that for him.
You are a special woman and I want you to know how very important you are.
Women are the real architects of society.
Empower women, empower the human community. The base on which the world stands is a woman.
A charming woman doesn't follow the crowd; she is herself.
Happy Women's Day to all the incredible women! Shine on…. Not just today but everyday!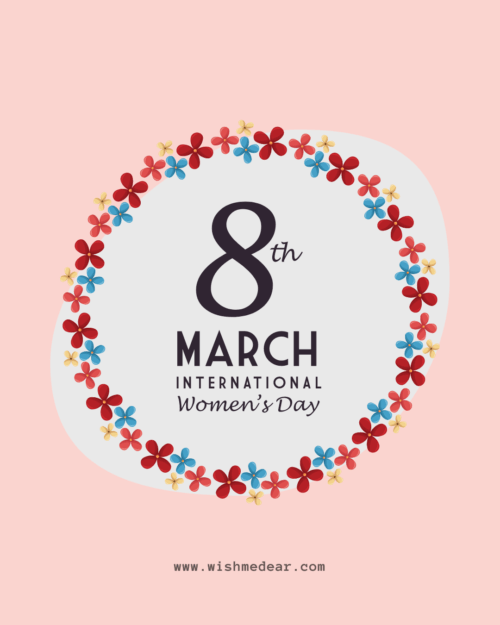 Happy international women's day
Happy Women's Day, to someone who is much more wonderful than they think, with all my love.
Happy international women's day
Happy international women's day
The International Women's Day is celebrated worldwide on March 8, but all the other days of the year are also for them – because they offer great company and support us in difficult times. They are also our spark and are a beautiful part of our dreams.
Why not celebrate the beautiful gifts encased in the amazing women in your life – whether it's your mom, your wife, lover, friends or even colleagues at work… Take the opportunity of this special day to send them some of the most beautiful Images and Quotes for International Women's Day from Wishmedear.com!
The International Women's Day, Women's Rights Day, or simply the Women's Day as is popularly called, is celebrated in many countries around the world on March 8.
While it's common knowledge that Women's rights are an integral part of human rights, it's no secret at all that many women still have their rights questioned, limited or reduced. Why not take advantage of this special occasion to support the mobilization and activism to promote gender equality and the empowerment of women – at least for the special women in your life.
The most beautiful images and quotes of happy women's day are here on Wishmedear.com – so you have got lots of fascinating ecards with great international women's day quotes and women's day videos that you can easily share them on your favorite social media platforms.
Being a date that is celebrated across many countries of the world – when women from all continents, often separated by national borders and ethnic, linguistic, cultural, economic differences, come together to hey celebrate their day. Wishmedear.com has selected a special collection of captivating images with commemorative phrases for this day, so you can share the beautiful images that appeal or connects with you the most. And enjoy even greater support, love, and appreciation from the amazing women in your life.
From working extra hard to support their family and loved ones, to raising children, cleaning up the house, and, of course, running the world! Wishmedear believes that women definitely deserve to be celebrated! So we put together some inspiring, soul-lifting and even funny Women's Day quotes and images to share with the special ladies in your life.
TAKE THE TIME TO BROWSE THROUGH OUR BEAUTIFUL COLLECTIONS OF INTERNATIONAL WOMEN'S DAY TO CELEBRATE THE AMAZING WOMEN IN YOUR LIFE, ON MARCH 8TH
Seize the occasion to show them lots of attention, care, and appreciation as you send any of Wishmedear's Women's day messages for mom, sister, aunt, wife, teacher, female colleague, girlfriend and more!
It's a great time to make them feel all the appreciation that you can express on this special day. We also would like you to be inspired to find great ideas on how to say "Happy Women's Day" to them.
Rest assured that here, on Wishmedear.com, you will definitely find lots of beautiful Happy Women's Day images and women's day greetings that match the various female personalities in your world.