Happy Easter Quotes, Messages, and Images
Easter is, above all, a Christian feast where the resurrection of Christ is commemorated. But for many, it is also a happy time with the family. Festive meal, family atmosphere, eggs, rabbits, fish, and above all chocolate characterise this festival.
Celebrate the Easter season with a heart full of joy and peace.
Have a Happy Easter! Wishing you a fun and sweet day of celebration!
Here's to finding most (or all) of the Easter Eggs that are out there today!
Dearest friends & family, Happy Easter to You! Hoping you have an egg-cellent day ahead!
I hope your heart gets filled with the love, basket with candies and Easter eggs on this Easter. May God bless you and your family.
I hope you have an amazing time with your friends and family! Love, The Andersons
Wishing you a great spring break. May more blessings come your way!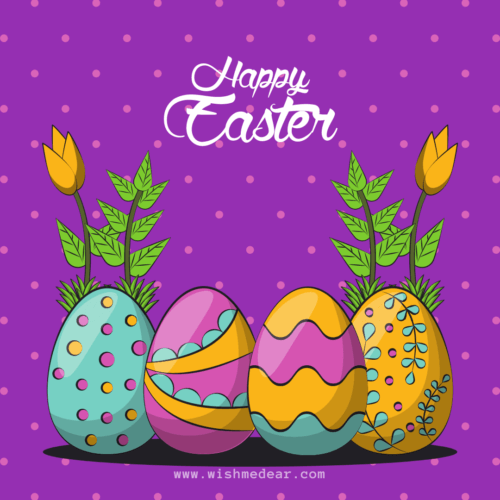 Wish a happy Easter with beautiful Christian or non-religious messages. These beautiful Happy Easter greetings, texts, and images will allow you to wish a good day with love or friendship or even with humor to friends, their parents, or members of their families. This holy day of the Christian religion is a good occasion, whether one is a believer or not, to send a beautiful message of affection to the people that one loves.
Take advantage of our lovely designs; send and share on WhatsApp, or publish them on your favorite social networks.
Here, at Wishmedear, you will find different designs. So, you can choose the ones you like the most and then take advantage of them to send and share on WhatsApp, or publish them on your favorite social networks.
Starting this year's Easter Sunday 2023 with so much joy is wonderful, which is why we have created some very beautiful dedications in images, phrases, and messages so that you can download, and send to whoever you want to give a Happy Easter shoutout with much love and blessings.
It's a known fact that the Easter period offers people; friends, colleagues, family members, and loved ones, the opportunity to exchange happy Easter quotes, wishes, and goodwill messages or greeting cards. And we have, at Wishmedear, the perfect Easter Messages, Wishes, and Greetings that you can select from, download, and send to a loved one or to someone you know.
Of course, at this auspicious annual event, folks indulge in recreational events such as parties with their family and friends. In more recent times, people generally have a tendency to want to reach out by sending messages and ecards online via their favorite social media platforms and chat messengers.
We have, therefore, put together a fantastic and well-thought-out selection of religious and non-religious Easter Greetings and Quotes with images; to help you communicate most conveniently; your sincerest and heartfelt Happy Easter Greetings, Prayers, and Wishes to your nearest and dearest. Irrespective of the physical distance between you, wherever they are on the globe!
Use our rich collections of e-cards with beautiful dedications to wish you a happy Easter day and many blessings on this special date.
We want you to take advantage of the Easter occasion to greet all the people you love through the different media that you want to love. You can use our rich collections of e-cards with
beautiful dedications to wish you a happy day and many blessings on this special date.
Think about it this way… You will see many relatives, friends, and loved ones on easter weekend. Our collections will equip you with the right words with which you can greet them with beautiful dedications both in person and, online; through your favorite social media platform for those you who may not be within your immediate reach.
Wishmedear Happy Easter images 2023, Happy easter quotes, Happy easter Wishes Messages, Happy Easter quotes, and images, as well as the exclusive Happy Easter 2023 images — are all designed particularly with you in mind! 
You no longer need to spend endless hours trying to put together thoughtful messages, kind Happy Easter 2023 wishes, or Happy Easter images and quotes for those you care about this Easter 2023.  
With our range of Happy Easter 2023 messages, quotes, and images. You can let your friends, family, and loved ones (both near and far away, in distant places) know just how much you care about them this Easter season by sending them some thoughtful extra special Easter messages, quotes, and wishes this year 2023. 
Easter has undoubtedly become a period where people exchange Happy Easter Greetings, Wishes, and Messages. Our carefully crafted and heartfelt wishes and quotes will show your recipients how much you care. You will find our list of Easter wishes very useful especially if you are having a hard time trying to find the right words or wishes to send.
SELECT, DOWNLOAD, AND SHARE — AT NO COST!!!
Take a look at Wishmedear's extensive range of Happy Easter 2023 Messages including our captivating Happy Easter images 2023, the Happy Easter Quotes, and heartfelt Happy Easter Wishes and Greetings 2023 that you can download and send to someone you know — for free!